Published in Seeking Alpha PRO
Summary
Three near-term or on-the-market drugs will diversify Jazz's revenue, currently overwhelmingly dependent on narcolepsy drug Xyrem.
Cancer drug Vyxeos (from Celator acquisition) could be the biggest advance in AML in a generation; NDA should be filed in 2016.
Orphan drug Defitelio is rolling out in the U.S.; multiple synergies could boost upside.
Preliminary Phase 3 data on JZP-110 is due before EOY. The drug could replace coming generic loss from Xyrem, as well as expand into obstructive sleep apnea market.
Jazz's products lack substitutable alternatives, meaning successful payer pushback is unlikely.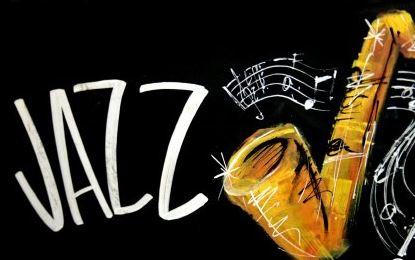 "Always look ahead, never look back," was a favorite saying of jazz great Miles Davis. And it couldn't be more appropriate to the opportunity likely coming in significantly underappreciated mid-cap biotech Jazz Pharmaceuticals (NASDAQ:JAZZ).
With the biotech investing space clearly in risk-off mode, this once overachieving biotech has fallen pretty much in lock-step with the iShares Nasdaq Biotechnology ETF (NASDAQ:IBB) for the past 12 months. And that's despite Jazz differentiating itself by having cornered a very lucrative market with its sleep franchise, and also being one of the best acquirers in the specialty pharma industry.
Jazz paid just $150 million to acquire Xyrem back in 2005, which was one of the biggest steals of the past 11 years, since Xyrem contributes many multiples of that amount in profit each year. Since then, Jazz's management has shown patience in waiting for the right deals – orphan products with favorable prospects – and has even bought back its own shares ($300 million repurchase program authorized on November 2015), showing that it is not engaged in a reckless growth-at-all-cost strategy.
While there's no perfect stock, there are multiple reasons Jazz looks set to hit high notes before the end of 2016. I'll cover risks and potential spoilers in a second, suffice it to say here that Jazz is underappreciated currently due to fears of possible coming generic competition for Xyrem, which pulled in $995 million in sales last year, and currently makes up about 70% of the company's revenue.
But Jazz is injecting badly needed diversity with three new drugs, and positive news on any between now and the end of the year could catalyze investor interest and reignite the share price. In particular, its next generational sleep medication JZP-110 (assuming FDA approval) could offset any loss to Xyrem's sales.
In fact, JZP-110 could achieve more than that. The investigational compound has shown better efficacy than Xyrem at treating narcolepsy. This drug is also targeting an additional population group, obstructive sleep apnea (OSA). Currently, there are around 200,000 patients in the U.S. with narcolepsy. An additional 275,000 people use breathing machines to sleep because of obstructive sleep apnea. Clearly, this drug has a shot at being substantially bigger than Xyrem.
Let's dig further into three important 2016 catalysts that could drive a change in investor perception.
Catalyst 1: Vyxeos is the biggest advance in AML in a generation
The data just keeps getting better on Vyxeos, which Jazz recently acquired by spending $1.5 billion for New Jersey-based Celator Pharmaceuticals (NASDAQ:CPXX). Celator's lead product is Vyxeos, which is being studied as a potential treatment for acute myeloid leukemia (AML).
Jazz plans to submit the New Drug Application for Vyxeos to the FDA later this year, with hopes of reaching the market in early 2017 and creating accretive value in 2018.
Vyxeos shows terrific potential. In Jazz's recent data dump of Phase 3 clinical trial results, patients who used Vyxeos increased their overall survival rate to 9.56 months, a big improvement over the 5.95 months observed in patients that received current standard-of-care treatments.
In addition, Vyxeos showed a hazard ratio of 0.69, which represents a 31% reduction in the risk of death. The number of patients alive after 24 months increased to 31.1% (on Vyxeos) compared to only 12.3% for those who used traditional treatments.
The impressive data holds even higher significance because there has been no innovation in treatment for AML for almost four decades. Currently, fewer than 10% of patients with the very highest-risk form of AML live more than five years after diagnosis. When you look at the five-year survival rate for all forms of AML, it is still only around 25%.
Vyxeos has the coveted breakthrough therapy designation by the FDA, speeding up review. It already holds orphan drug status in both the E.U. and U.S. For those who have been closely watching FDA approvals, the agency's oncology chief, Dr. Richard Pazdur, has been accelerating cancer drugs through the regulatory approval process. Under his tenure, the average decision time on oncology drugs has come down to five months from six months.
In addition to better survival benefits, Vyxeos offers convenience since a portion of the therapy can be given on an outpatient basis. It's a co-formulation of cytarabine and daunorubicin, using Celator's proprietary CombiPlex platform, which insures that the optimal ratio of the two drugs reaches the leukemic cells, something not usually accomplished through current therapies. Based on that, Jazz believes that the therapy's annualized price range of $50,000-75,000 per patient is realistic.
Peak sales targets for Vyxeos widely vary. On the low end, $400 million has been cited for the de-risked application for initial approval. Assuming higher secondary AML sales and/or expansion into other AML patient populations, the target rises to $1 billion in global sales by 2020.
Assuming Jazz is successful at expansion in AML, the upper target looks achievable to me. According to the National Cancer Institute, around 21,000 cases of AML are diagnosed in the U.S. each year. At an average of $62,500 per patient, and assuming 65% receive treatment, that's slightly over $850 million revenue in the U.S.
In the EU, the total number of cases of MMs (myeloid malignancies) are 43,000 annually, about half of which are AML, or 21,500 cases. Prices in the EU can go as low as one/third of U.S. for cancer meds. If all patients received treatment, we're looking at $430 million, but let's assume only 65% would, meaning the drug would reap almost $280 million. So we're already over $1.1 billion, with the rest of the globe completely left out of the sales projection.
Catalyst 2 – synergies and label surprise could boost Defitelio rollout – peak sales, $500 million
Jazz picked up Defitelio (defibrotide sodium) in its 2013 buyout of Italian biopharma Gentium, paying $1 billion in cash with hopes of expanding the drug's potential. In 2014, Jazz paid $75 million up front and promised up to $175 million more to Italian biopharma Sigma-Tau in exchange for the U.S. rights.
It was a risky strategy, given that the FDA rejected Gentium's first pitch for approval in 2011, raising concerns about quality of its data. But Jazz persisted, and on March 30, Defitelio became the first FDA-approved therapy for treatment for severe hepatic VOD (hepatic veno-occlusive disease). VOD is a rare and life-threatening liver condition. Around 20,000 stem cell transplantation procedures are performed in the U.S. each year, with around 10% of those patients suffering from severe VOD.
Jazz slapped a hefty price tag on Defitelio, $825 per vial, $140,000 per treatment course. But it's in line with what analysts expected. Jazz plans to market Defitelio in the same centers as its drug Erwinaze, taking advantage of synergies. With only a small increase in the sales force, the company hopes to add significant revenues.
There's another synergy between Defitelio and another Jazz drug that's being missed by analysts. Cancer patients are sometimes given an infusion of stem cells to restore bone marrow functions. These stem cell transplants sometimes cause the dangerous side effect Defitelio earned the FDA approval to treat. If more patients are driven into remission with Vyxeos, Defitelio should see increased use as well.
Canaccord Genuity analyst puts Defitelio's peak sales around $480 million for its current indication. Analyst Louise Chen from Guggenheim expects the drug to add $6.64 to Jazz's profit per share in 2016.
Assuming 2,000 patients need treatment, and a $140,000 treatment course, we're at annual sales (U.S.) of $280 million. Across the pond, Defitelio is already rolling. Last year, it raked in $70.7 million in European sales.
Jazz is also evaluating the drug for the prevention of VOD in high-risk patients with a Phase 3 study slated to commence in the third quarter of this year. In fact, Jazz admitted in a conference call a few years ago that about one/third of its usage comes from off-label use as a prophylaxis. Defibrotide also has potential in graft-versus-host disease – a larger indication, in which the treatment has orphan drug designation in the EU.
I see peak sales at $500 million, but I also believe it's early days for this drug. It could well become a blockbuster product.
Catalyst 3: JZP-110 preliminary data due from Phase 3 trial before EOY
Jazz's answer to any potential loss from generic competition to Xyrem hinges on investigational compound JZP-110, which it acquired from Aerial BioPharma in 2014. The drug is currently in Phase III trials in narcolepsy patients and OSA patients, and Jazz is exploring further label expansion. The company provided this timeline in an update a few days ago: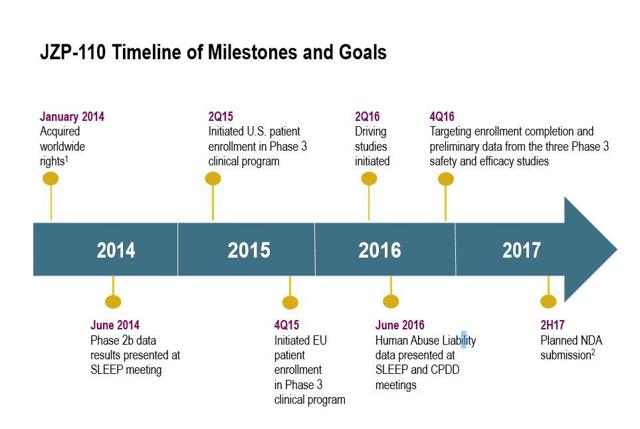 Click to enlarge
Both narcolepsy and obstructive sleep apnea are diseases with significant unmet need. In terms of narcolepsy, if it is severe, you cannot get restorative sleep at night, you can't function in the day, and you can't have a job.
Last quarter, Jazz said that 12,775 patients were on Xyrem, and the company continues to emphasize that the market for the drug is underserved. According to MDGuidelines, it affects between 125,000 and 500,000 people in the U.S., but as few as 50,000 are correctly diagnosed.
Jazz is also working hard to expand Xyrem's label. The drug is currently in a Phase 3 trial for pediatric narcolepsy, with enrollment completion expected in the second half of 2016. Morningstar's peak sales projection for Xyrem is $1.7 billion in 2019.